The Game Is a Footnote!
meh.com
Hello, Meh people! Hot on the heels of the life and times of Bambi and its creator Felix Salten, I have for you a twisted story of copyright intrigue involving the world's greatest detective. No, not the Bat-Man! Sherlock Holmes. Explore the spider filing motions at the center of a licensing web…
Many readers of mystery fiction maintain Sherlock Holmes is the greatest literary detective. (I'm one of them.) It's well known that Arthur Conan Doyle tired of the esteem in which the reading public held his creation, and often thought himself rather dull in comparison. He attempted to kill Holmes, but was persuaded to return him to life.
But Holmes never died. He survived the Reichenberg Falls—spoiler!—and he remains vital in the annals of intellectual-property ownership: some of Conan Doyle's stories remain under copyright in the United States to this day.
You might call this story "A Study in Charlatanism," but that would be far too judgmental. Perhaps "The Sign of the Foregone Owners"—or "The Adventure of the Lion's Share, Mainly."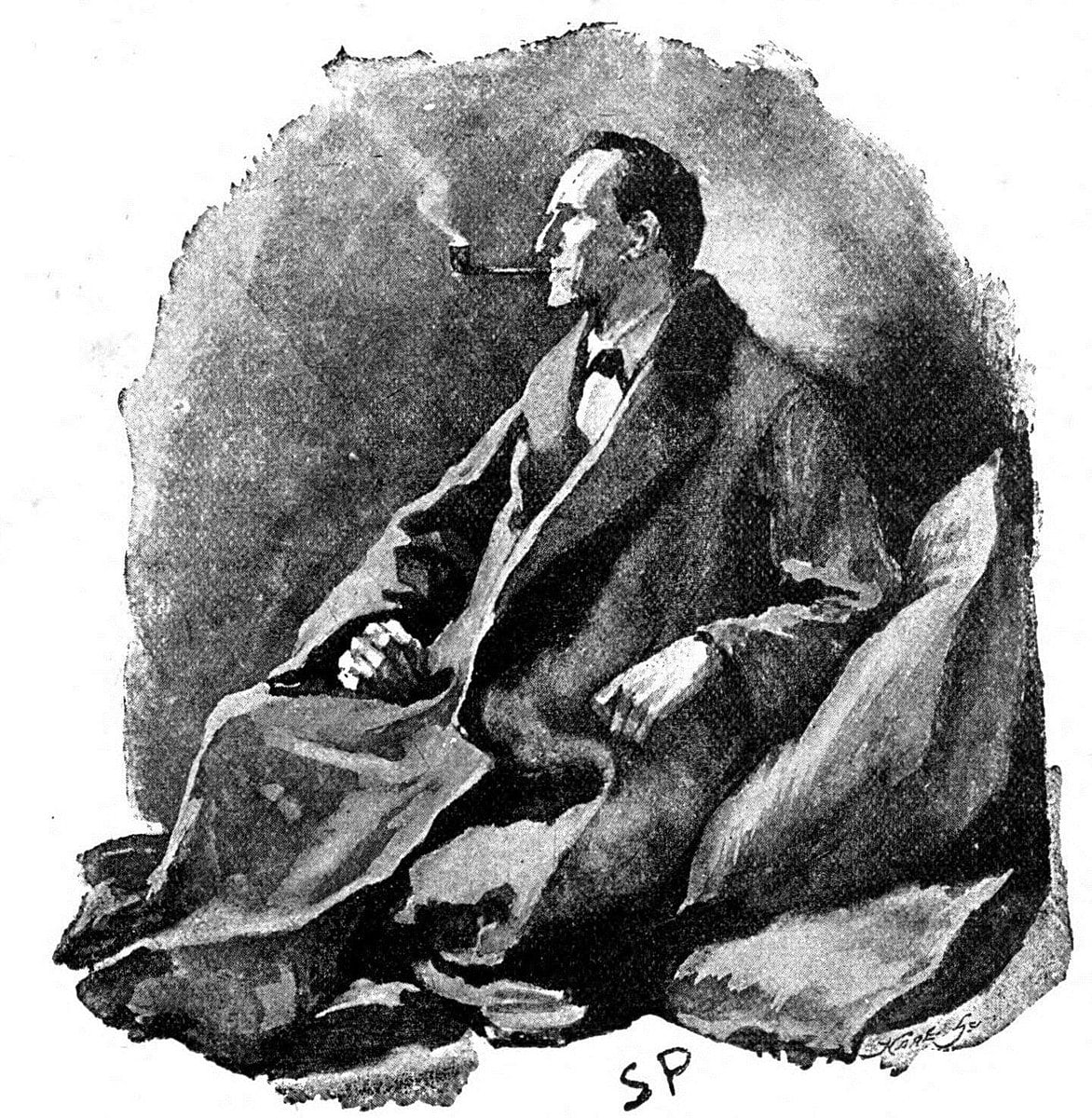 Sherlock Holmes in "The Man with the Twisted Lip", Strand Magazine, 1891, by Sidney Paget
Puns aside, certain descendants of Conan Doyle have managed through assertion, legal threats, and some legitimate enforcement to continue to earn pence and pounds from the great ratiocinator.
That regime is nearly at an end. Quick, Watson (never uttered), my magnifying glass (1887), my deerstalker cap (illustration only, 1891), and my straight-stem pipe (1891)! These dates and details will become important, and I ask you to retain them in your memory palace (not canon): "It is of the highest importance…not to have useless facts elbowing out the useful ones" (1887).
Now hail a hansom cab!
Stalking the deerstalker cap
Shouldn't all the Holmes stories be in the public domain already? Not quite—nearly. It's that nearly that has caused all the trouble. In the next section, I'll get into the copyright particulars. But on the slender thread of a few stories that remain under copyright only in the United States, the Conan Doyle Estate Ltd. has aggressively attempted to extract fees for licensing.
The company has harangued and sued authors, publishers, directors, moviemakers—and even people creating entirely new Holmes and Watson stories derived from the characters.
The Conan Doyle Estate Ltd. isn't Conan Doyle's estate or literary executor. When he died in 1930, he left his literary rights to his three children by his second wife, Jean. Denis died in 1955 and Adrian in 1970. Various fights, sales, licensing, receiverships (a UK term similar to bankruptcy), and at least one accounting mess left the rights in disarray and out of family hands. The youngest, also named Jean, lived till 1997. (Conan Doyle had five children by two wives; none of those children had issue.)
In the simplest version of the narrative, daughter Jean regained rights in 1981 to the post-1922 stories as published in the United States. How? This 2010 New York Times story asserts this, but the matter isn't clarified there or anywhere else.
On her death in 1997, her recovered rights were bequeathed to a charity, the Royal National Institute of Blind People. The Conan Doyle Estate Ltd. purchased the rights from that institution on behalf of several Conan Doyle relatives—none directly descended, some connected only by marriage, and just three publicly listed. (The estate company also claims certain Holmes-related trademarks and often expansively tries to enforce those, too.)
However, a competing organization, the Sir Arthur Conan Doyle Literary Estate, claims it's the true owner. A sale of assets in 1976 to director Sheldon Reynolds, who had previously adapted Holmes's story under license, should have remained in effect, asserting that Jean Conan Doyle lacked the standing to regain the rights in 1981. This has not been tried in court, and additional people more directly involved have passed on in the interim.
The Sir Arthur Conan Doyle Literary Estate has occasionally received payments from publishers and producers likely to avoid a fuss. In all that follows, however, it's the Conan Doyle Estate Ltd. that has taken the lead and continues to do so.
The estate company's ongoing claims against those who won't pony up licensing fees for US publications and media productions derives from its notion that because any Holmes story was still ticking away its copyright clock, any aspect of characters established in any tale remained protected. Holmes—or any literary character—could only be judged under copyright as a whole creature in this novel approach.
Litigation is expensive, and the estate company had the legitimate stance that it did own some copyrights—even if its interpretation might have been unusual. Many creators, publishers, and movie studios simply obtained a license ahead of time or when one was demanded to avoid a kerfuffle that would delay publication or release and wind up costing as much or more than the fee the Estate company wanted.
A US appeals court should have decisively put this claim to rest in 2014, when it delivered insight for this final problem in the Holmes case. Its decision might resolve it for many others in the future and may have already kept other cases out of the courts.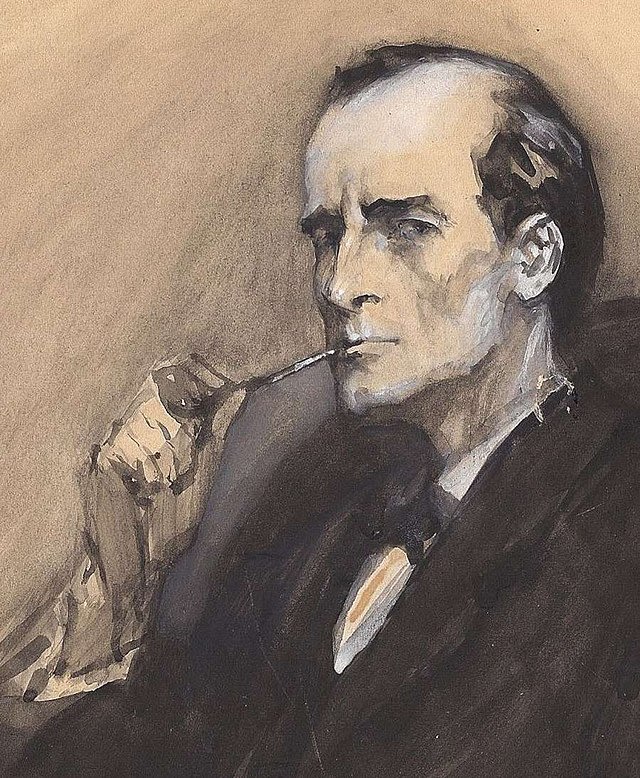 Holmes by Sidney Paget, 1904
A holistic Holmes or a reductionist one?
The ostensible 2014 resolution came in a case brought by Leslie Klinger, a lawyer who is also an exhaustive scholar of Sherlock Holmes, Mary Shelley's Frankenstein, Neil Gaiman's Sandman, and other classic and modern works.
In 2010, Klinger and co-editor Laurie King, published a collection of stories inspired by the Holmes canon, A Study in Sherlock. As Klinger is an attorney and literary expert, he and King ensured that nothing in the collection would reference the Holmes stories that remained in copyright. But the Conan Doyle Estate got wind of the book, demanded $5,000, and paid it, according to Klinger's account to the New York Times and his lawsuit.
As they prepared to publish In the Company of Sherlock Holmes, a follow-up volume, Klinger and King refused to pay any license fee. The estate company promised in December 2012 to inform booksellers of a dispute, and the book's publisher wouldn't proceed without an assurance about copyright. The estate company told Klinger, "…do not expect to see it offered for sale by Amazon, Barnes & Noble, and similar retailers. We work with those compan[ies] routinely to weed out unlicensed uses of Sherlock Holmes from their offerings, and will not hesitate to do so with your book as well."
Klinger sued the Conan Doyle Estate in 2013 for a declaratory judgment: he wanted a court to deem the group's claims invalid, so his and King's book could be published.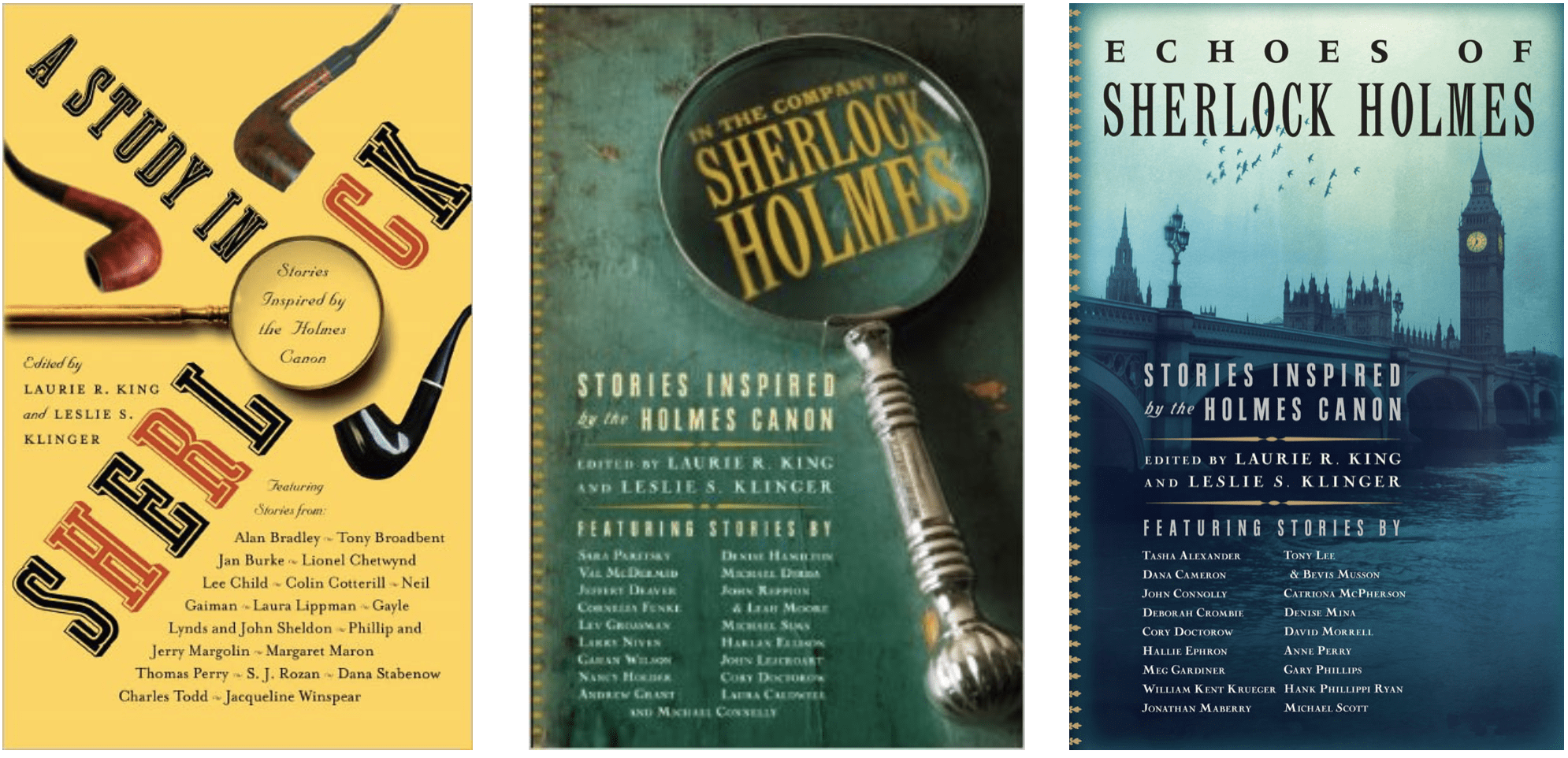 Three Holmes-inspired volumes of work edited by Klinger and King
Sherlock was extremely hot in the early 2010s. The estate company had wrangled fees from BBC's Sherlock, CBS's Elementary, and the Sherlock Holmes movies starring Robert Downey Jr. However, a lot of other Holmes work was out there, much of which hadn't arranged for a license or had ignored demands. This included Laurie King's Mary Russell stories, which detail a young woman as she grows into maturity and marries Holmes, and they proceed on further adventures. Nor did Nancy Springer seek permission for her Enola Holmes Mysteries series, starring an ostensible third Holmes's sibling.
Klinger's suit wanted two separate declarations: First, for works that at that point were published in 1922 and before, they were definitely in the public domain, and any aspect of them could be used. Second, however, that characteristics in works from 1923 onward lacked protection separately from the character's creation—they were events and facts, rather than integral parts. This was separate from the literal text of those stories, which Klinger didn't dispute was under copyright.
A district court in 2013 quickly agreed on the first and disagreed on the second—the opinion was a summary judgment, as the Conan Doyle Estate didn't appear for hearings. The estate company somehow appealed successfully, however, and a three-judge panel in 2014 agreed with the district court and settled the matter in its jurisdiction, as the Supreme Court declined to hear the case. (In the US, a federal precedent isn't set by an appeals court, allowing a similar case to be filed in another circuit. The Supreme Court typically hears cases that represent important points in law or that recur in circuits and need a definitive judgment.)
Judge Richard Posner wrote the appeals court's decision. Known for witty and readable legal prose, he noted, "The ten Holmes-Watson stories in which copyright persists are derivative from the earlier stories, so only original elements added in the later stories remain protected." Dust your hands off—we're done. He noted that if the opposite were true, authors—the original or ones hired by an estate—could just keep writing stories that featured characters they had previously invented to keep copyright protection in effect indefinitely.
But the decision left a little breathing room. Posner also wrote of the evolution of Holmes and Watson across Conan Doyle's work:
The resulting somewhat altered characters were derivative works, the additional features of which that were added in the ten late stories being protected by the copyrights on those stories. The alterations do not revive the expired copyrights on the original characters.
Those remaining scraps were enough for Conan Doyle Estate Ltd. to continue to litigate for as long as they could. In June 2020, with the release on Netflix of Enola Holmes approaching, the estate company sued Enola Holmes author Nancy Springer; her publisher, Penguin Random House; the film's producer, Legendary Pictures; Netflix; and the film's director, Harry Bradbeer.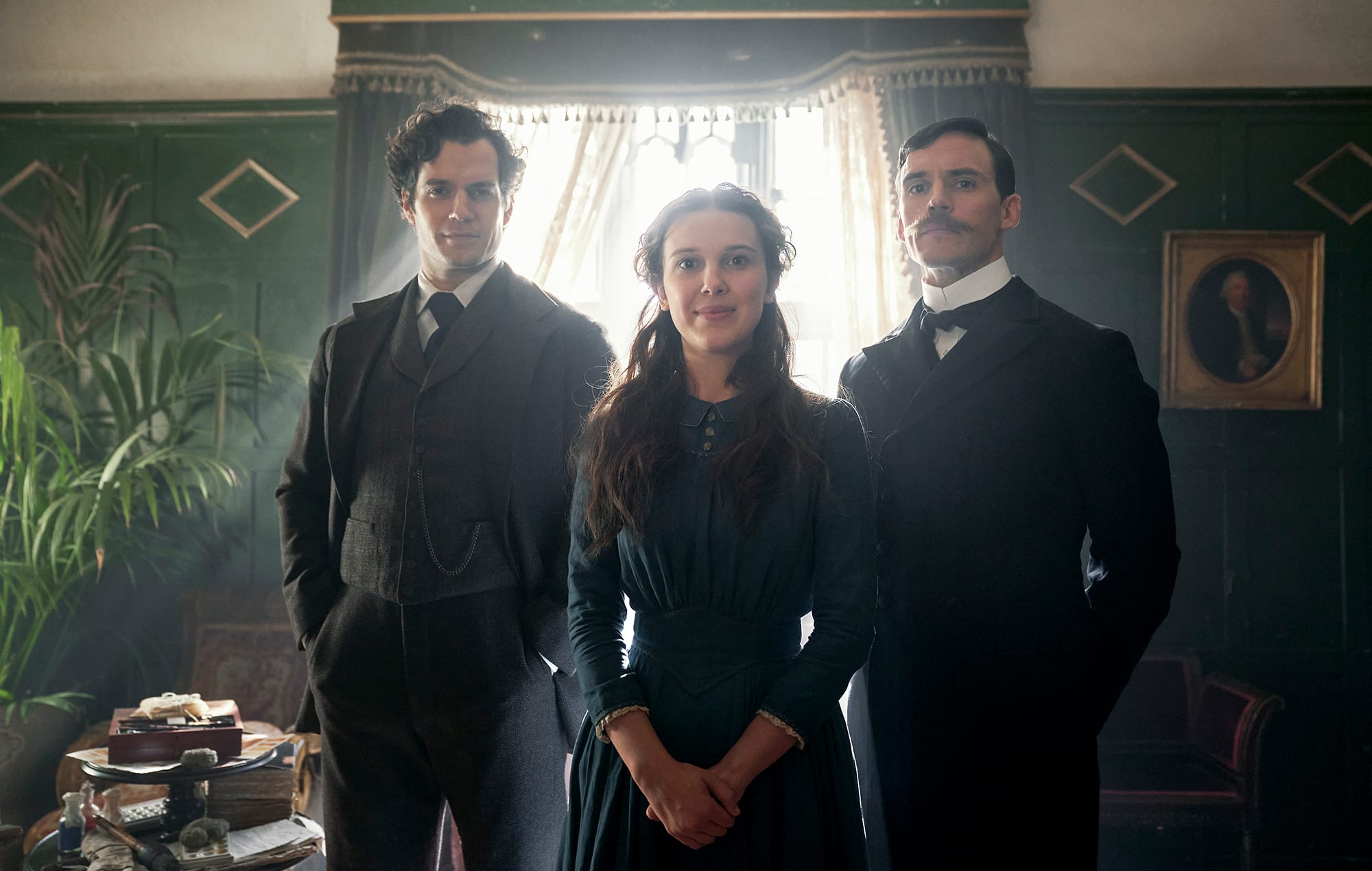 Enola Holmes on Netflix. (They're always getting Henry to shave his mustache.)
The estate company's arguments? Significant humanizing elements of Holmes were only introduced in stories Conan Doyle wrote after World War I, such as "Holmes changes from one who cares little for dogs to someone who has great interest in them" and "He became capable of friendship. He could express emotion. He began to respect women."
This starts to sound like someone arguing a custody case or trying to convince a romantic partner they've changed. Regardless, Enola Holmes began to stream on Netflix in September 2020, and the parties reached some kind of agreement by December. A filing stated they all agreed to dimiss with prejudice—meaning the case can't simply be refiled—and pay their own court costs. The filing disclosed no other terms.
Did the estate company rack up another scorched-earth victory? If so, it will be among their last.
How long is this going to go on?
At the time of Conan Doyle's death in 1930, at age 71, the UK and much of the world except the US conformed to the Berne Convention: copyright for published works extended to 50 years after the death of the author or other creator. That put the expiration for the Holmes corpus and the rest of Conan Doyle's writing at 1980.
While Britain opted to extend that period from 50 to 70 years in 1995, the act only extended copyright for creators who died in 1945 or later. Many other countries added a similar 20-year extension. (Conan Doyle's copyrights were not extended in any of those countries.)
The US didn't become a signatory to the Berne Convention until 1988, but it had modified its rules in 1976 to conform to the notion of copyright being measured by creator's life plus 50 years, rather than from the date of creation. A variety of laws passed over decades led to work published in the US from 1923 onward remaining under copyright for ever longer periods.
Finally, in 1998, the US passed its "Mickey Mouse" extension, giving work from 1923 to 1977 a 95-year copyright period, and work after that point protection for 70 years following a creator's death. (See the second part of my article on Bambi's tangled copyright history for more on this.)
Conan Doyle's work thus spanned two different US copyright regimes. All his work from 1922 and earlier, representing all the novels and all but ten stories, remained in the public domain after earlier expirations. His 1921 story, "The Adventure of the Mazarin Stone," expired no later than 1978.
However, ten of the twelve tales collected in The Case-Book of Sherlock Holmes (1927) appeared between 1923 and 1927. Each of those 12 stories had proper copyright renewal after 28 years under a requirement in place in the US at the time. As a result, they remained within copyright through a final 95-year grandfathering extension. Thus, the story published in 1923 entered the public domain only in 2019 and the three from 1924 in 2020.
The mystery remains about how Jean Conan Doyle claimed those rights, but the duration of their copyright has not been in dispute.
That leaves just six stories published in 1926 and 1927 remaining under copyright:
"The Adventure of the Three Gables" (1926)
"The Adventure of the Blanched Soldier" (1926)
"The Adventure of the Lion's Mane" (1926)
"The Adventure of the Retired Colourman" (1926)
"The Adventure of the Veiled Lodger" (1927)
"The Adventure of Shoscombe Old Place" (1927)
If these aren't familiar titles, let's just be kind and note that some later Conan Doyle writing didn't have the same snap as the early stuff, particularly after he became deeply convinced that fairies exist and seances were real.
There's a ticking clock on those six tales, as the 1926 stories enter the US public domain on January 1, 2022, and the 1927 ones the following New Year's Day.
When the clock strikes midnight on January 1, 2023, perhaps we can all raise a glass and shout, "The game is afoot!" (1904)—even though Conan Doyle borrowed the phrase from Shakespeare.
–
If you liked this, you'll want to catch up on all of @glennf's Meh essays